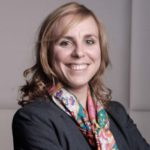 Anne-Laure Giraudeau is a Senior Associate in the Private Equity & Real Estate practice at Arendt & Medernach where she specialises, advising domestic and foreign clients, in corporate and regulatory aspects of private equity fund formation and related transactional work.
She is a member of the Paris Bar (France) and was admitted by the Luxembourg Bar to practice in Luxembourg under her French professional title in 2012.
Anne-Laure studied law in France (Nancy and Strasbourg) and Germany (Cologne). She holds French master's degrees in private law and international business law from the Université of Lorraine (France).
Anne-Laure currently serves as co-leader of the Diversity & Inclusion Network at Arendt (DNA), internal network from Arendt & Medernach focusing on diversity and inclusion within the firm at all level. As secretary of the board of LILLA, she is interested to share her insight for the various LILLA projects.