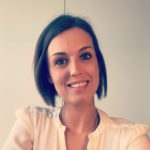 Caroline Sculteur holds a Master's Degree in Business Law from the University of Lorraine (France) and a Bachelor in Law from the University of Namur (Belgium) and she currently works for D. Law in Luxembourg as Senior Associate in the Corporate and M&A department. Occasionnaly, she goes to the University of Louvain-la-Neuve in Belgium to give Corporate Law classes. She is also fluent in French, English and Russian.
Caroline likes diving, travelling and discovering different culture across the continents. This open-mindedness means a lot to her and defend the ideas of LILLA is, in her opinion, a huge opportunity to open a door to a professional legal world in which women can join, share, exchange and, above all, defend ideas and propose solutions to restore a balance within professional ascension.
Caroline is also a member of EWLA (European Women Lawyers Association).