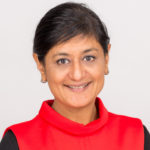 Parul Abbott was admitted on the roll of Solicitors in England & Wales in November 1991. She kicked off her career in law firms in London concentrating on litigation chiefly criminal law. In 1997, she changed direction and entered banking. Since then she has been pursuing a career within the financial sector. Now, she works at Danske Bank International S.A. as a senior legal advisor. She has developed substantial expertise in the life insurance sector in London, Isle of Man and Luxembourg.
Recently, Parul completed a Masters in Banking and Finance from the Luxembourg School of Finance to counterpart her legal mind. This added an element of flexibility to her skill set.
"inspireiert ze wuessen".