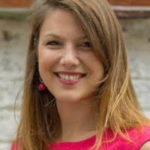 Virginie Dobritch is a senior lawyer in the wealth management legal department at UBS Luxembourg. She is specialised in financial and regulatory matters including capital markets, investment services, financial products, international credit structures and listing regulations. 
Virginie holds an European Master in Law and Economics from the Universities of Ghent, Rotterdam and Warsaw (LL.M.) (2013) and a Master in private Law from the University of Brussels (Belgium, 2012). 
Virginie worked previously as an associate in a law firm, as a Legal Counsel in a financial institution in Luxembourg and as a Regulatory Consultant for an audit firm in Luxembourg. Virginie is also a member of the ALJB.
Virginie is proud to be a member of the board of director of the dynamic LILLA. She hopes that the association will help young professional female lawyers to find their way to through the competitive legal environment and also to raise awareness to a greater gender equality.